Arik Vishnevsky
DVM, Owner
My name is Arik Vishnevsky and I am both the owner and practicing veterinarian at Central Vaughan Animal Hospital. Since graduating from the The Ontario Veterinary College, I have worked in two large-scale 24/7 animal hospitals in the GTA. During this time, I gained a tremendous amount of veterinary experience including managing intensive care patients, carrying out complex surgeries, performing dental treatments, and mentoring both veterinary students and veterinary technicians.
I am passionate about my profession and strive to establish a strong rapport with clients. I am a keen believer in collaborating with clients in making decisions that will benefit their pets and align with their lifestyles.
I feel privileged to have the opportunity to practice in this wonderful community of Thornhill, which I call home. I can also provide services in Russian and Hebrew.
In my spare time, I enjoy spending time with my wife, our two young children, and our mini poodle Charlie.
Please feel free to stop by anytime with your little critter to say hello and check us out! We love visitors.
I look forward to taking care of your pet,
Dr. Arik Vishnevsky
Veronika
Operations Manager
I joined CVAH team in March of 2021 as a receptionist. My commitment to expanding my knowledge of the veterinary field, both inside and outside of practice, helped to advance my career and quickly led me into the role of Operations Manager. I love the diversity of the job and the lasting relationships that are created with the clients and patients. I find it especially rewarding to be able to see our patients recover & be their happy selves again.
I have a kitty named Simba, who just hypnotized me with his big, gorgeous eyes and I could not help but take him home with me, despite the fact that it was not planned.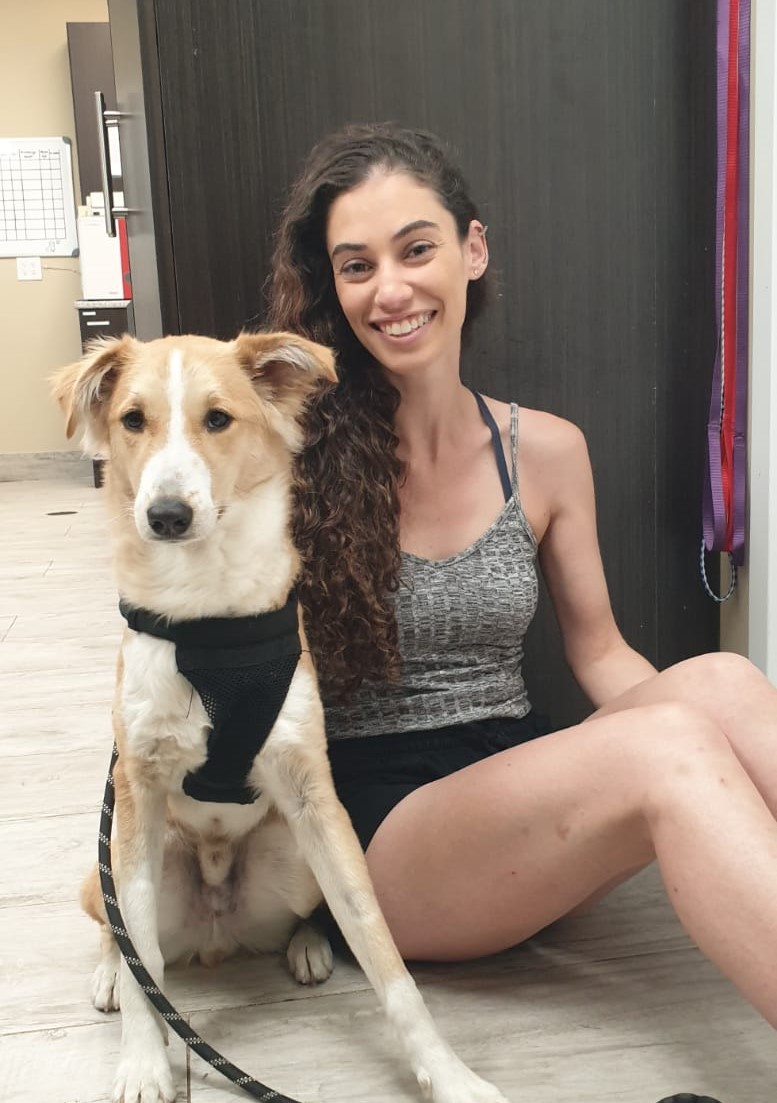 Melissa
Registered Veterinary Technician
Animals have always been a huge part of my life. From chasing around my relatives' dogs as a kid to volunteering at pet events/festivals, to now working as an RVT as my career with grooming on the side. Small or large, each and every animal has a spot in my heart!
When we're not at work, Louk and I can be found outside on an adventure or cuddling on the couch watching a good movie. I also love to travel and immerse myself into the many amazing diverse cultures of the world. Depending on the destination, I plan to bring Louk with me as I travel and explore the world together.
Mariya
Veterinary Assistant
I received my education in the field of veterinary medicine in Belarus. I have always worked closely with animals. After moving to Canada I decided to continue with my passion.
I have a pet myself – a standard dachshund named Nita. A little over 9 years ago she became a member of my family and we have been inseparable ever since. She even traveled with me from Belarus to Canada!
I devote a great amount of time to self-education in the veterinary field to always be on top of any new research and techniques to provide the best service to your pets. I believe that you achieve maximum success only when you do what you enjoy the most!
Aaron
Client Services
Ever since I was young, it has always been a passion of mine to help those around me as much as I possibly can. Fortunately for me, my work here at CVAH allows me to assist both pets and their devoted parents alike. Given my experience with pet ownership, I understand how stressful and important their well-being is, and I strive to make each veterinary experience a smooth ride during trying times.
It has been said that the things you love best often hurt you the most, and I pride myself on being a living testament to this saying. As although my pet allergies may make me suffer, I cannot see myself living without them (and shoving my face on their fluff).
Coming home to my boys (Cheese and Bear) after work is always an excellent way to end my day.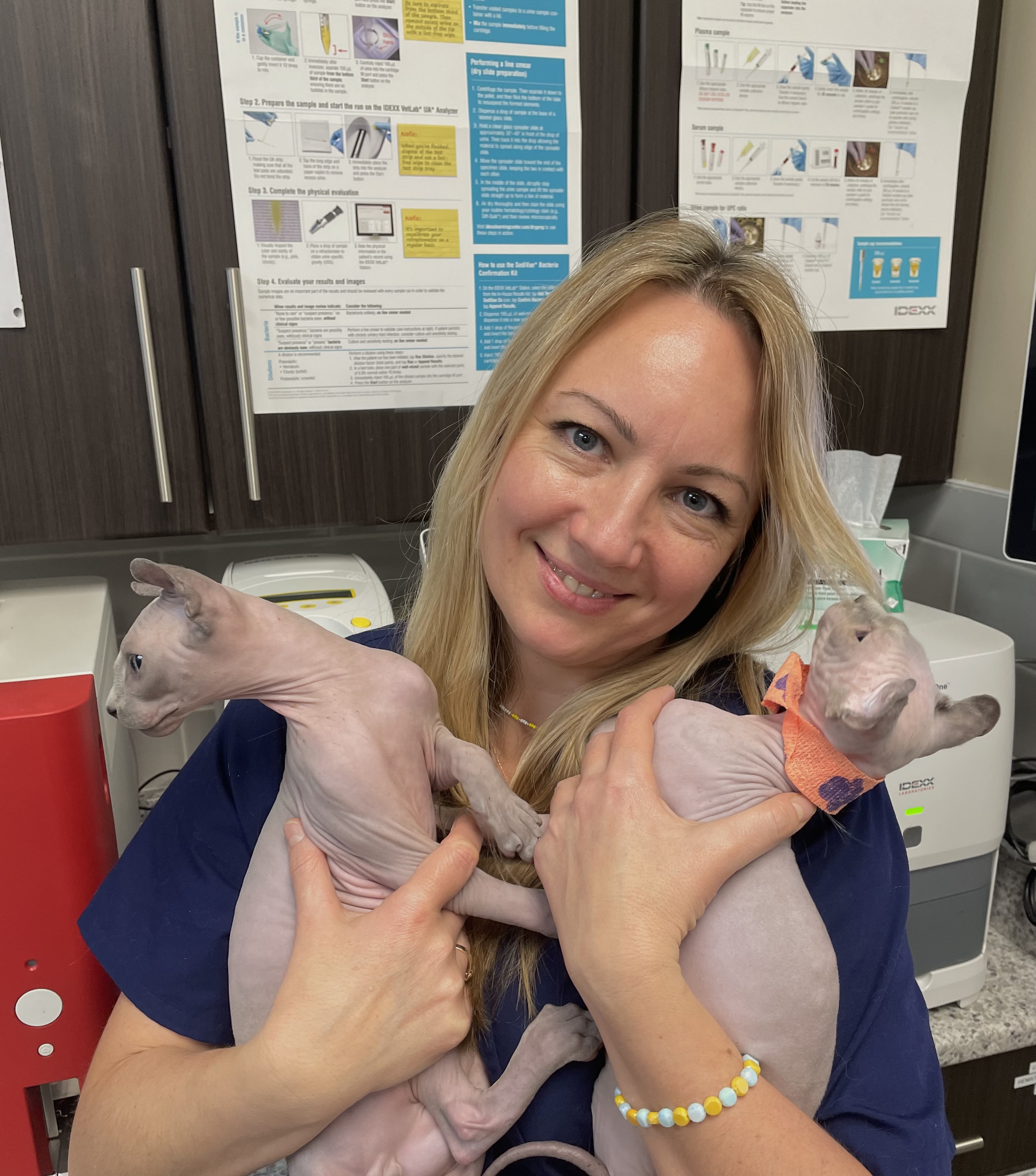 Iryna
Client Services
I joined CVAH team shortly after moving from Ukraine to Canada. I have only been working in the veterinary industry for almost one year but have always had a passion for animals.
My favorite thing about working in the field is building long-term relationships with each client and patient and giving them the best care possible. If you prefer to speak Russian/Ukrainian, you will most likely talk to me.
Outside of work, I like to spend most of my time with family and my 2 cats Masik and Grey!
Destiny
Client Services
Bio coming soon!
Avital
Animal Care Attendant
As someone who has loved animals their whole life, I enjoy coming to work every day and learning something new! Cats and dogs have always been a part of my life, and I've always been surrounded by them.
During the COVID 19 pandemic, I began working with animals and fell in love with the profession. I knew I wanted to continue working with our little friends when I arrived in Canada from Israel. While walking in nature, I appreciate seeing Canada through the eyes of my dog Luna and my cat Dimka.
Loukoumada "Louk"
Clinic Supervisor
Hi! My name is Louk! I am the clinic supervisor and my job is to say hello to everyone!
I came to Canada all the way from Saudi Arabia and met my mom here at CVAH when my foster brought me in to be neutered. Mom stayed by my side the whole time and we have been inseparable ever since! I love coming in to work with her every day and I look forward to meeting you and your pets, aka my new friends!